Recipe
Weekend Meals: Bangers, roots & lentils
Recipe by

Darren James Neil

Photography & Styling by

Katy Lanceley

Photography & Styling by

Ross Featherstone
Having gotten myself very comfortable in the kitchen I decided to challenge myself to try and cook a little more seasonally. This brought about the challenge of introducing other ingredients into tried and tested recipes, this particular one involved reconfiguring my favourite meal: sausage and mash. Coupled with a conscious effort to get my dad to eat more veggies I put together this alternative to a very tried and tested meal. As I work shift work, sometimes not getting home til 11pm, I find this meal is best saved as an indulgent weekend treat, but it's simple enough to construct any day if you have the time.
Ingredients
100g puy or green lentils
2 large carrots
2 large parsnips
1 Red cabbage
6 turkey sausages
1 white onion
50-75ml Port or red wine
2-3tbsp cranberry sauce
2tbsp honey
1tbsp mustard
50ml single cream
Fresh thyme
250ml Vegetable or chicken stock
Method
Slice the cabbage and boil in a pan for 10-15 minutes until soft. Drain, place back in the pan and set aside.
Cut the carrots and parsnips into medium-sized batons and simmer in a pan with the lentils, stock and honey, topping up with stock if necessary. Once cooked to a tender, al dente state lower the heat and add the mustard and cream. Stir until fully incorporated with the vegetables. Sprinkle in some fresh thyme just before serving.
Meanwhile, pan-fry the sausages on a medium heat until thoroughly cooked.
Roughly chop the onion and fry in a little olive oil until soft. Add in the cranberry sauce and wine or port and cook for a further 3-5mins.
Season the cabbage with salt and pepper and reheat with a knob of butter, stirring occasionally.
To serve, simply stack the whole thing high: sauce atop sausages atop cabbage atop roots and lentils, and enjoy.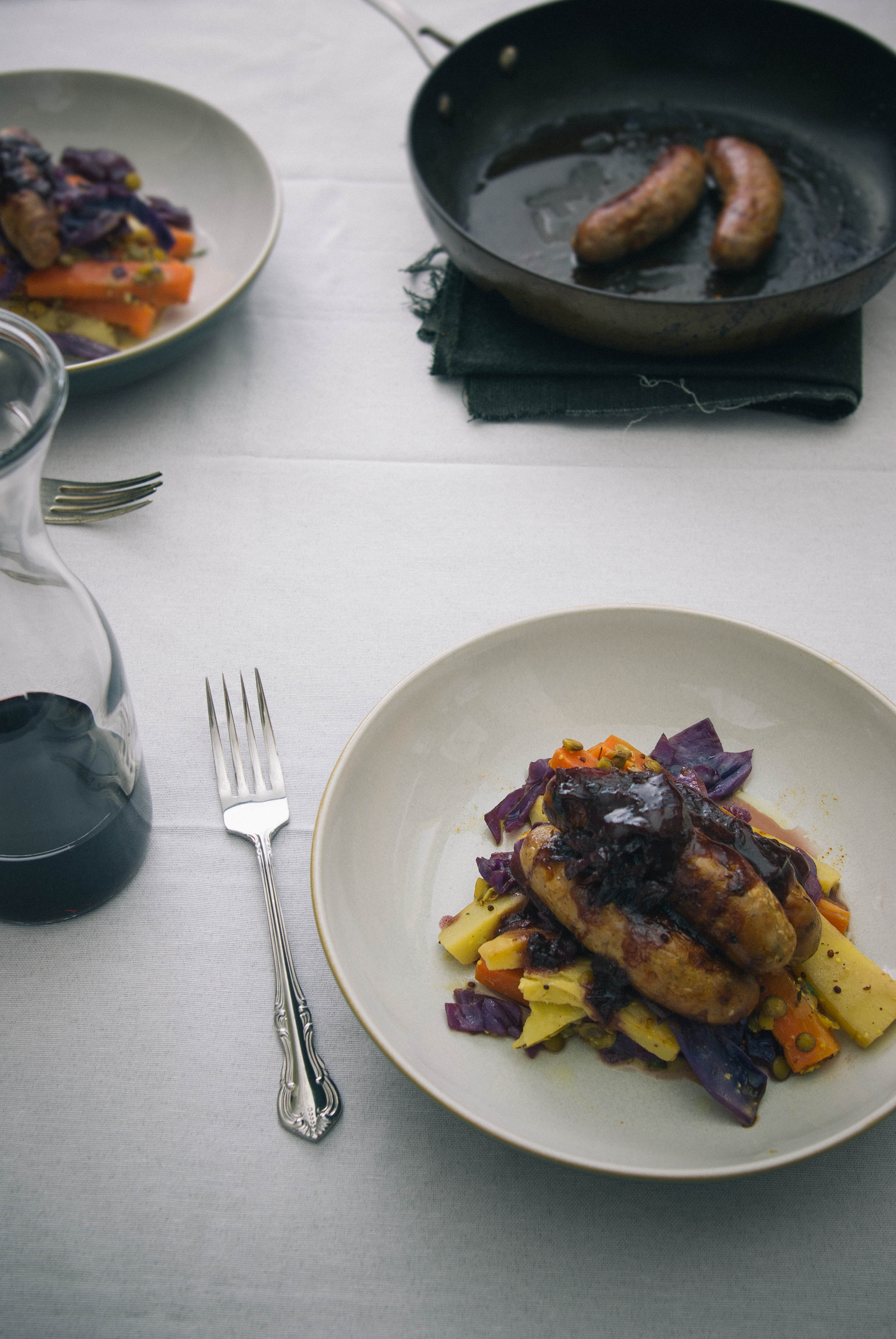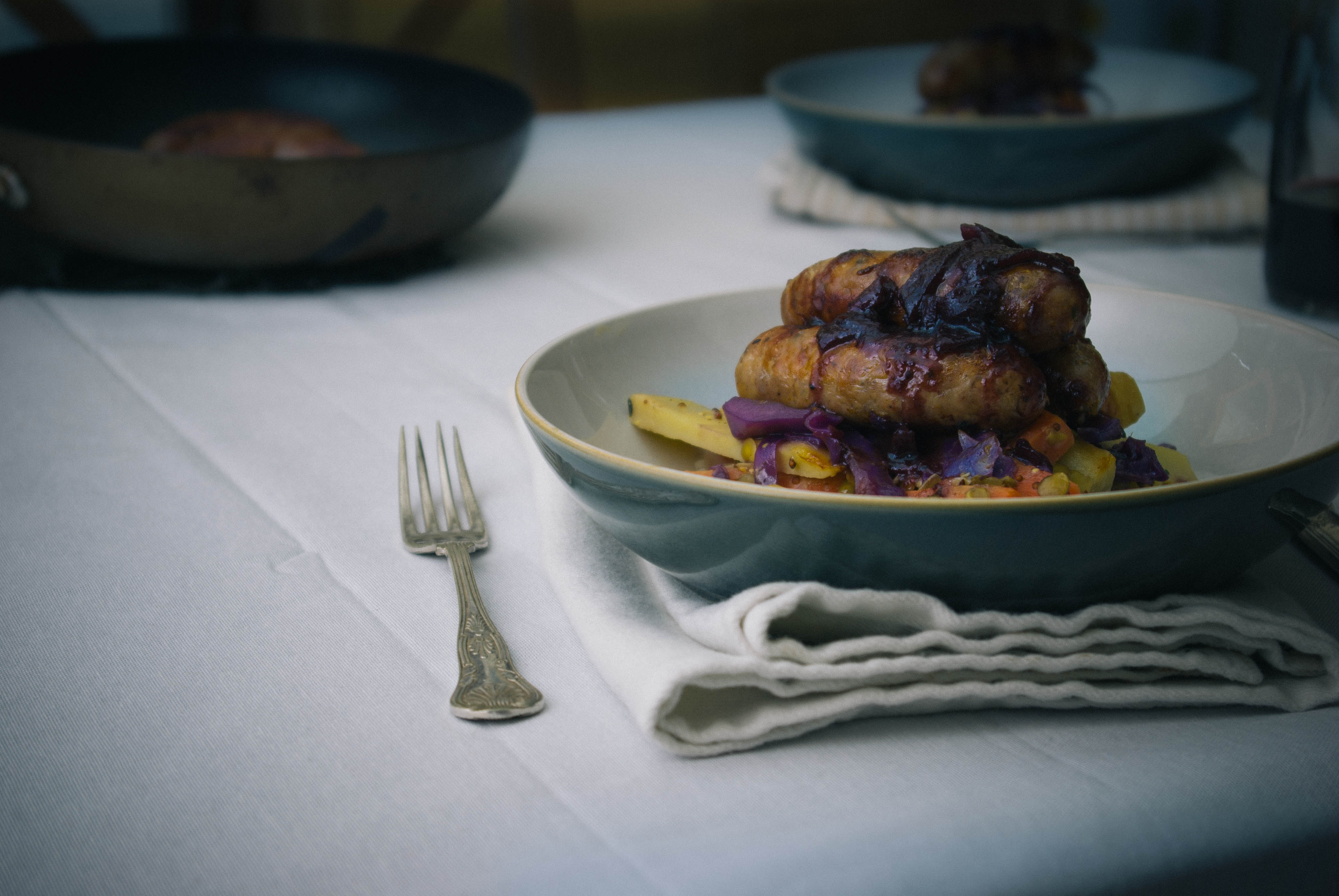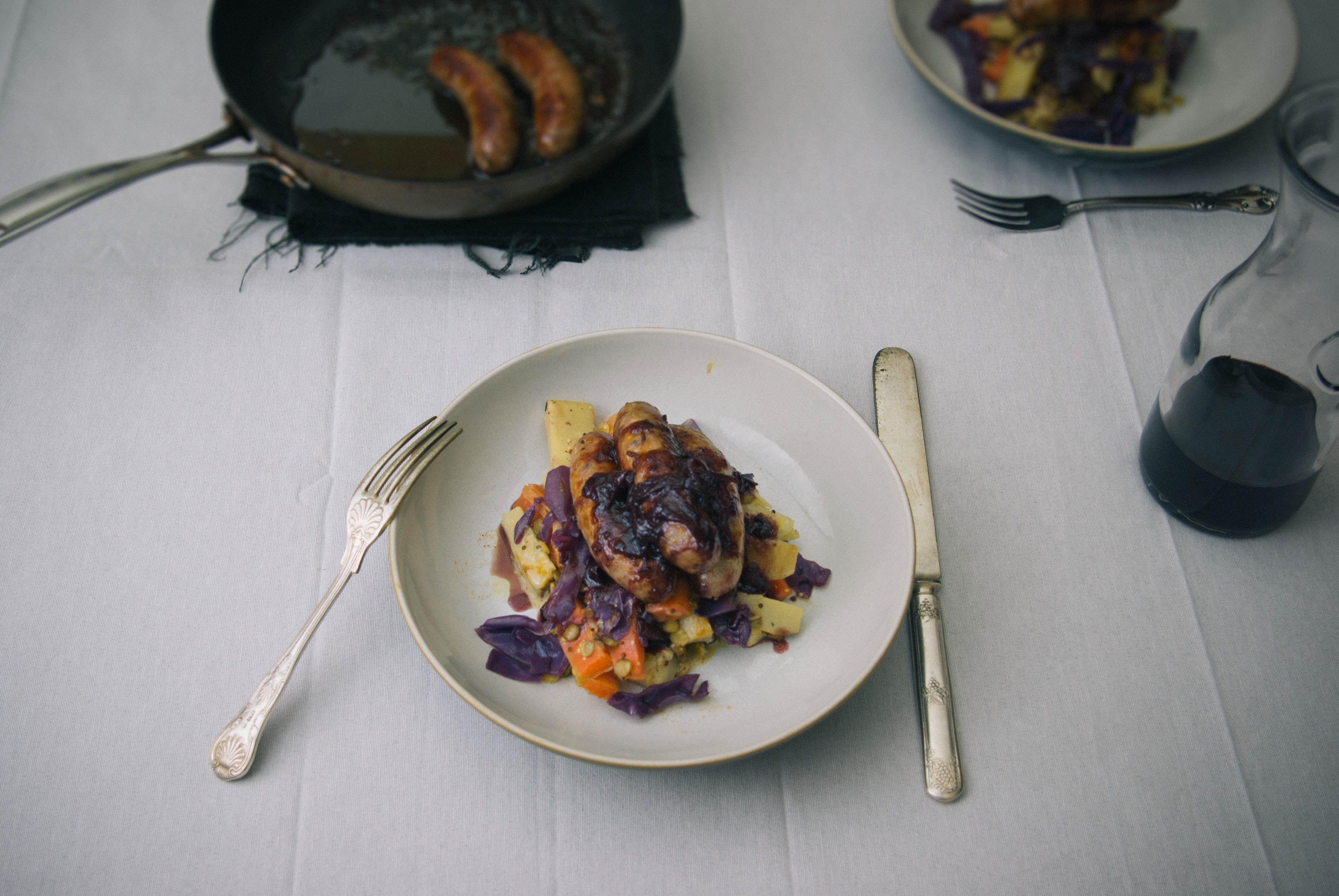 Weekend Meals: Bangers, roots & lentils was created by Food&_ community members: