Recipe
Pilaf
Recipe by

Matt Gorecki

Photography & Styling by

Katy Lanceley

Styling by

Ross Featherstone
I'm not really keen on rice to be honest – especially as a side dish. A couple of spoons full with Chinese or East Aisan foods are more than enough for me. Curry needs bread full stop, even Biryani. Risotto is something I enjoy, however; if you make the rice the star and adorn it with textures and flavours and pretty much turn it into a stew, you're going in the right direction.
I got into Pilaf after reading the account of Richard Olney's death – printed in the Observer Food Monthly. It's worth reprinting here:
The story goes that when his brothers arrived to arrange the funeral, they found a plate and a glass by the sink. The plate contained traces of a tomato pilaff; the glass, red wine. The remaining pilaff was in the fridge. The brothers took it out, heated it up, and toasted him before tucking in.

This pilaff tells you everything you need to know about Olney. People favour risottos now, but before there was risotto, there was pilaff: buttery rice mixed with onions, garlic and tomatoes that have first been fried in olive oil. If the tomatoes are good and fresh, the oil sufficiently grassy, and the onions just so, this is the food of the gods…(read the full article here)
Something simple, then – plain but tasty. The recipe in the Olney classic, The French Menu Cookbook, is for a plain rice pilaf so I just make this up as I go along. It's a nice straightforward dish and requires less mollycoddling than a risotto. I use brown rice as I much prefer it to white, and you don't really want too much starchy gloop here. If using white go for long grains.
Ingredients
1 Cup of Brown Rice
50g of butter
½ an onion finely sliced
1 clove of garlic finely sliced
Chicken stock or water
Flesh of a decent tomato, skinned and chopped
Method
In a shallow frying pan on a low heat, soften the onions and garlic in the butter,
If using white rice rinse away the starch until the water runs clear, otherwise just add the rice to the pan and cook for a couple of minutes.
Add the tomatoes and toss everything together.
Add hot stock and/or water until you've got double the amount of liquid to rice. The mixture should not boil but ever so barely be simmering.
Place some baking paper over the top of the dish and press down gently to form a good seal – you can also put a lid on the pan if you feel like it.
Cook very gently for around 30mins. Your choice of rice will effect cooking time, but if you're unsure just taste the rice to see if it's cooked. The rice wants to be just cooked and should be toothsome. The liquid should be almost gone but not quite!
Season well, mix it up a little with a fork and serve with a drizzle of good olive oil. The flavour improves measurably when it's cooled ever so slightly, so there's no rush to get it to the table.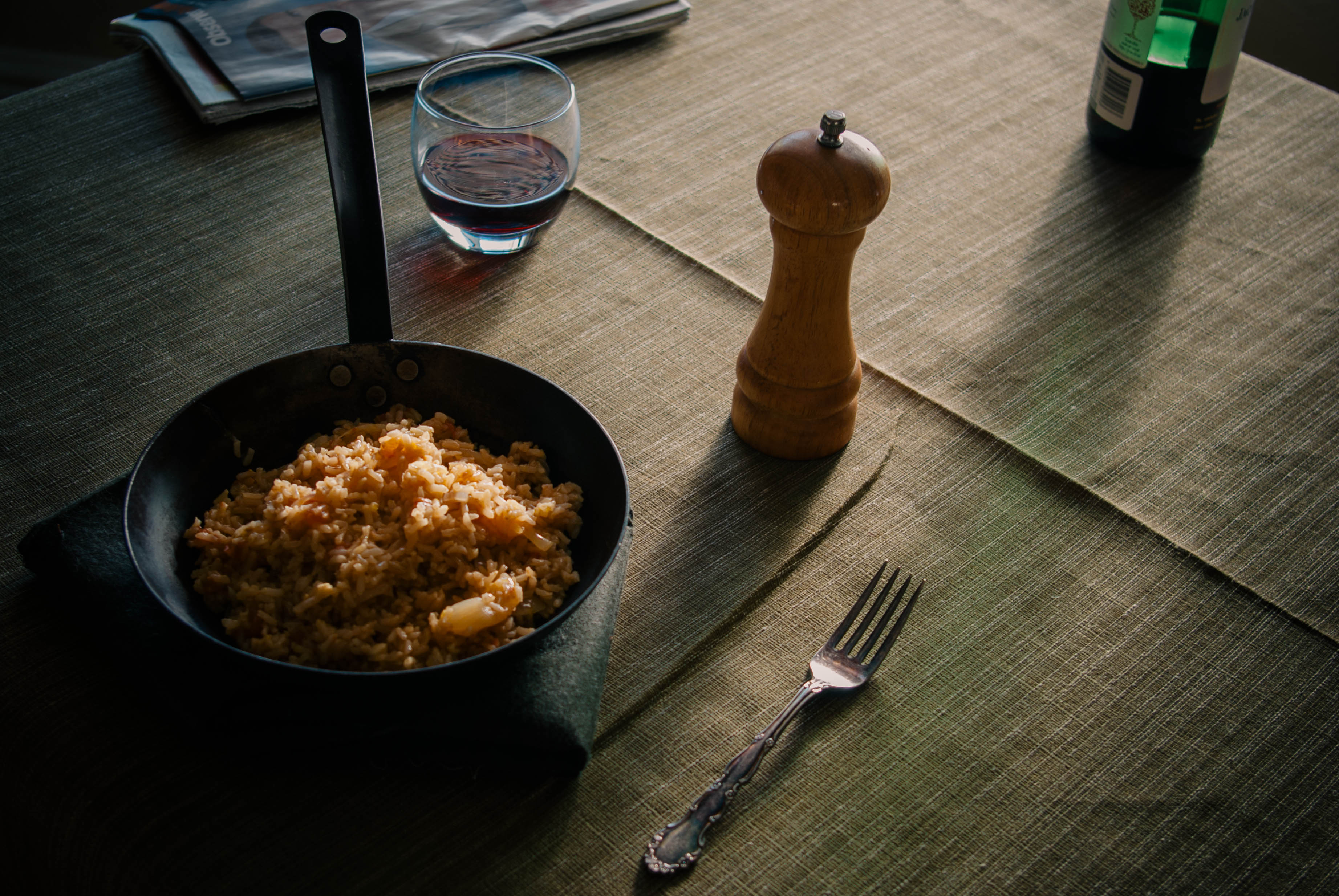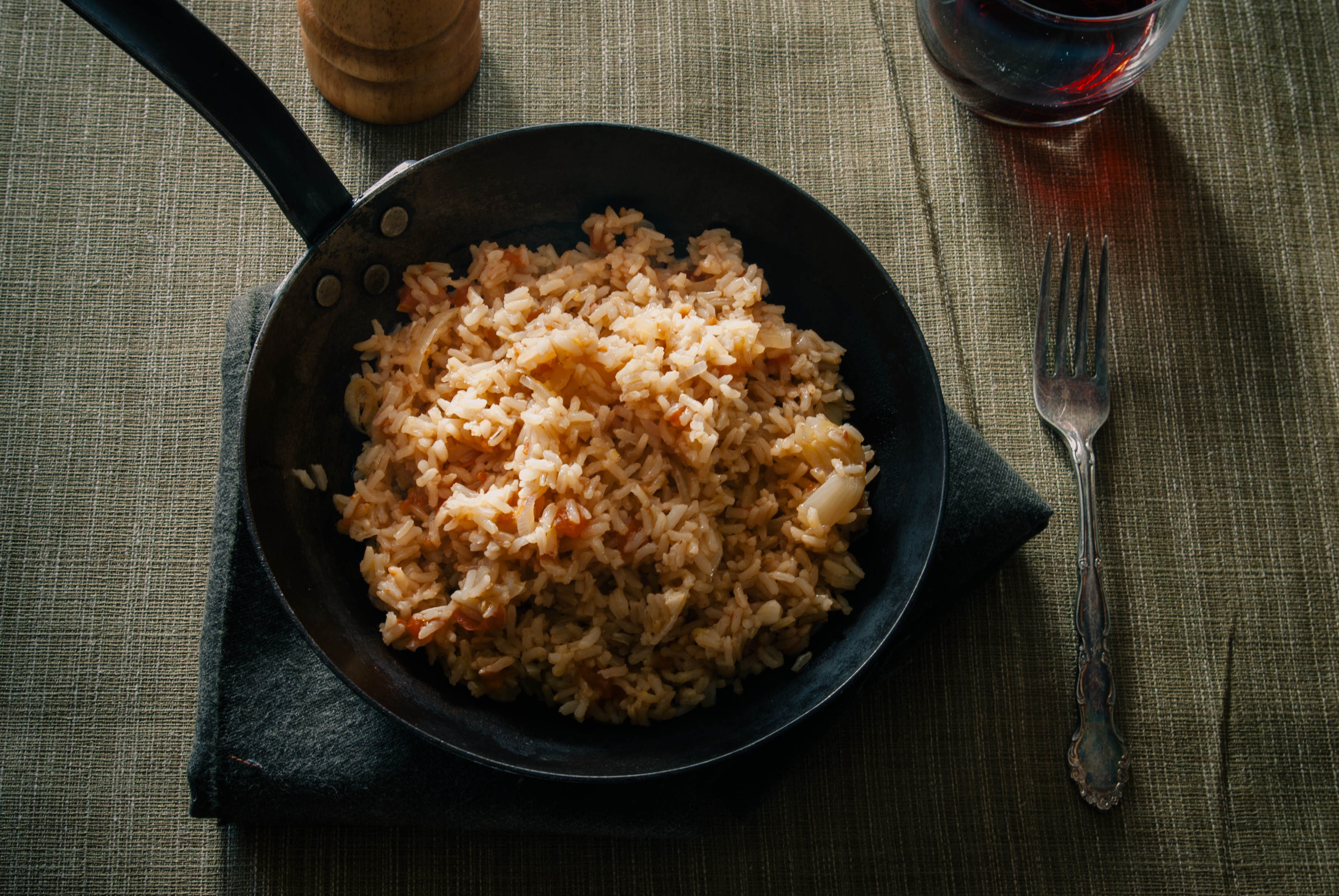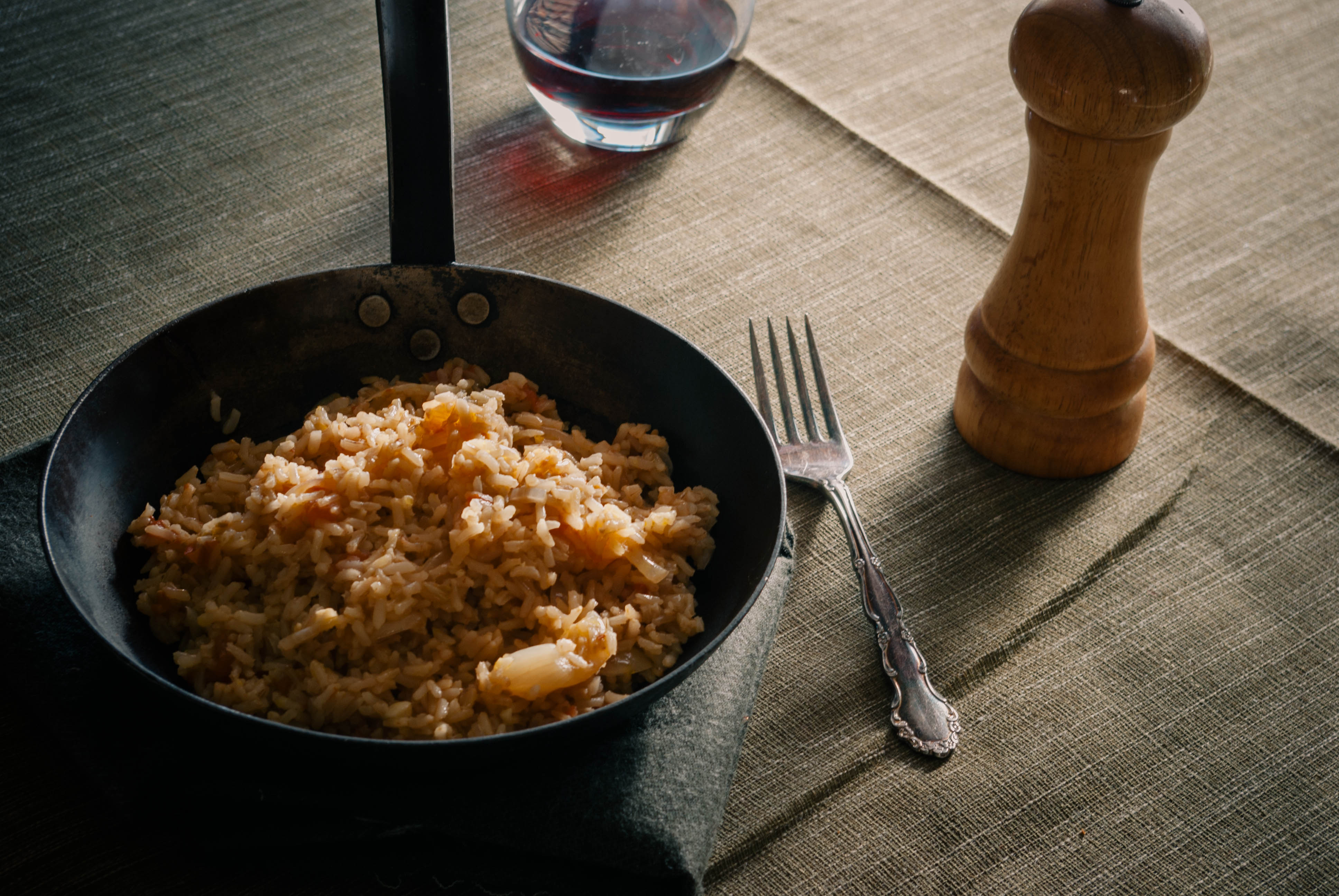 Pilaf was created by Food&_ community members: