Recipe
Fruit Cobbler
Words & Photography by

Jessica Murnane
For the last 20+ years, my husband's family has rented a house on the beach in North Carolina each summer. It's a week of catching up on stories, doing puzzles, and reading as many books as you possibly can. But the greatest thing about the week (at least to me) is that we never go anywhere for dinner. Ever. We literally don't leave the house. I wear a bathing suit and never get properly dressed all week, because my husband's dad cooks every single meal.
Mountains of pancakes and his famous grits for breakfast. Dinners that are a crazy buffet of all the fresh goodies he finds at the local markets. It's all pretty impressive. And since I've changed my diet, he's been right there with me, adapting what he's cooking so I can enjoy the feasts too. I never miss out on anything that everyone else is eating. Except for his cobbler.
His cobbler, oh man! It's the best. He doesn't even know this, but back in the day I once ate an entire half-pan in one sitting. The recipe calls for a stick of butter, a cup of sugar, pancake mix, and milk. Not the easiest thing to make more planty. But I knew I could do it, so I got to work. A few trials later and I'm pretty darn happy with the results, and I hope he is too. I may have eaten half the pan in my sitting…the true sign of cobbler success.
Note: You can swap out the blackberries for strawberries or blueberries…or add all three.
Ingredients
Fruit Filling:
4 peaches, sliced
1 pint of blackberries, cut in halves
1/4 cup of maple syrup
Cobbler Crust:
1 cup brown rice flour
1/2 cup almond meal
1/4 teaspoon of salt
1 teaspoon of baking soda
1/2 cup maple syrup
1/3 cup applesauce
2 teaspoons vanilla
1 tablespoon of flax meal mixed with 3 tablespoons of water
Method
Preheat oven to 350 degrees. In a small bowl, mix together flax meal and water. Place in the fridge for 15 minutes while you make your fruit filling.
Prepare the fruit filling by combing maple syrup, sliced peaches, and blackberries in a medium-sized bowl. Set aside.
For crust, mix together the brown rice flour, almond meal, salt, and  baking soda in a large bowl. In a medium bowl, mix together maple syrup, applesauce, and vanilla. Pour your wet ingredients into your flour mixture, add the thickened flax meal, and fold everything together. The batter should be slightly thick and not too runny.
Fill a greased pan (I like to use coconut oil) with half of your fruit mixture. Using half of your batter, scoop tablespoons of batter on top of the fruit. Leave them in their scooped form and don't spread the mixture. Layer the remaining fruit on top and then the rest of your batter.
Bake for 30-35 minutes, depending on how crisp you want the top. Let cool. Serve with coconut whipped cream or your favorite ice cream.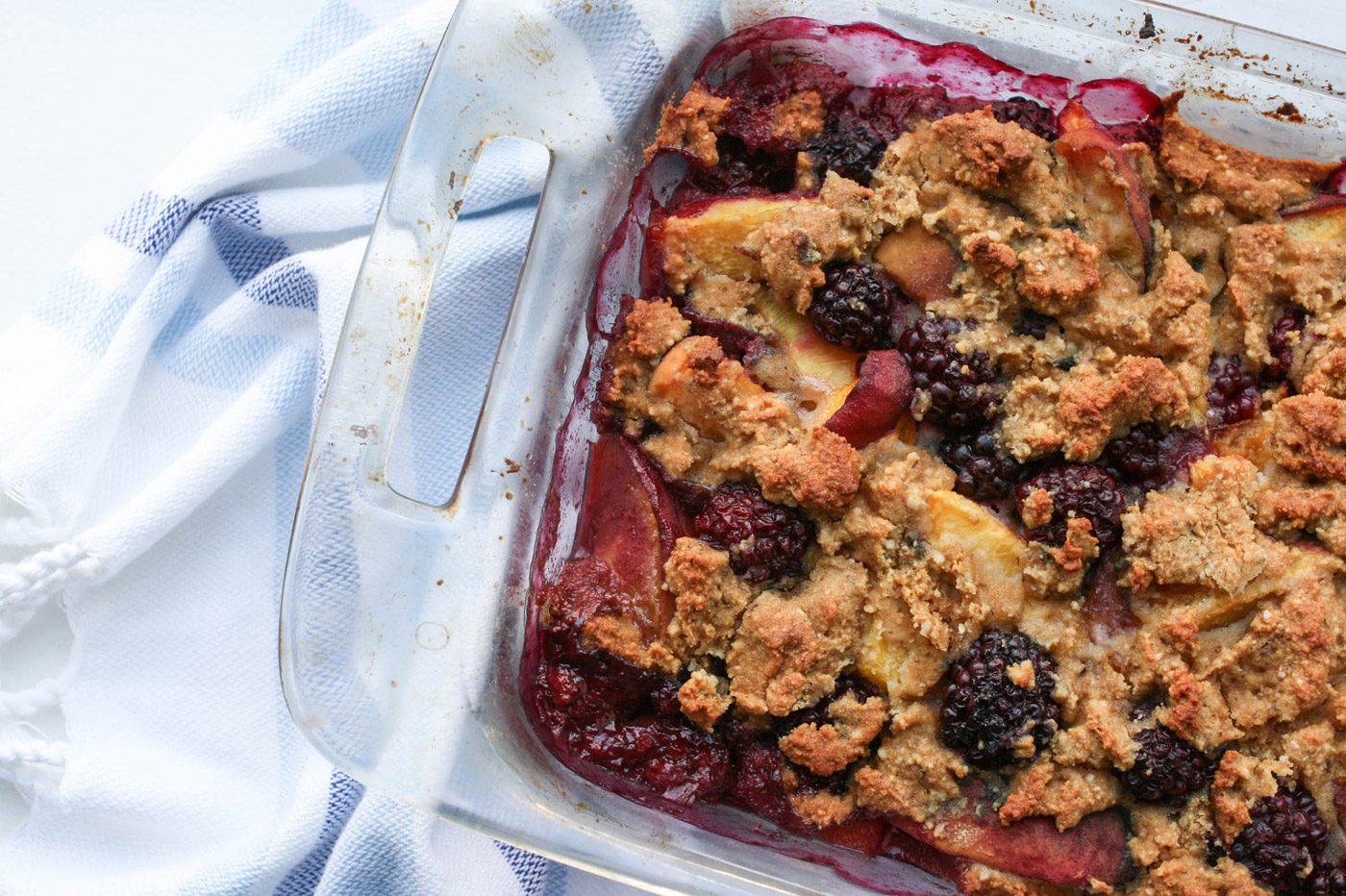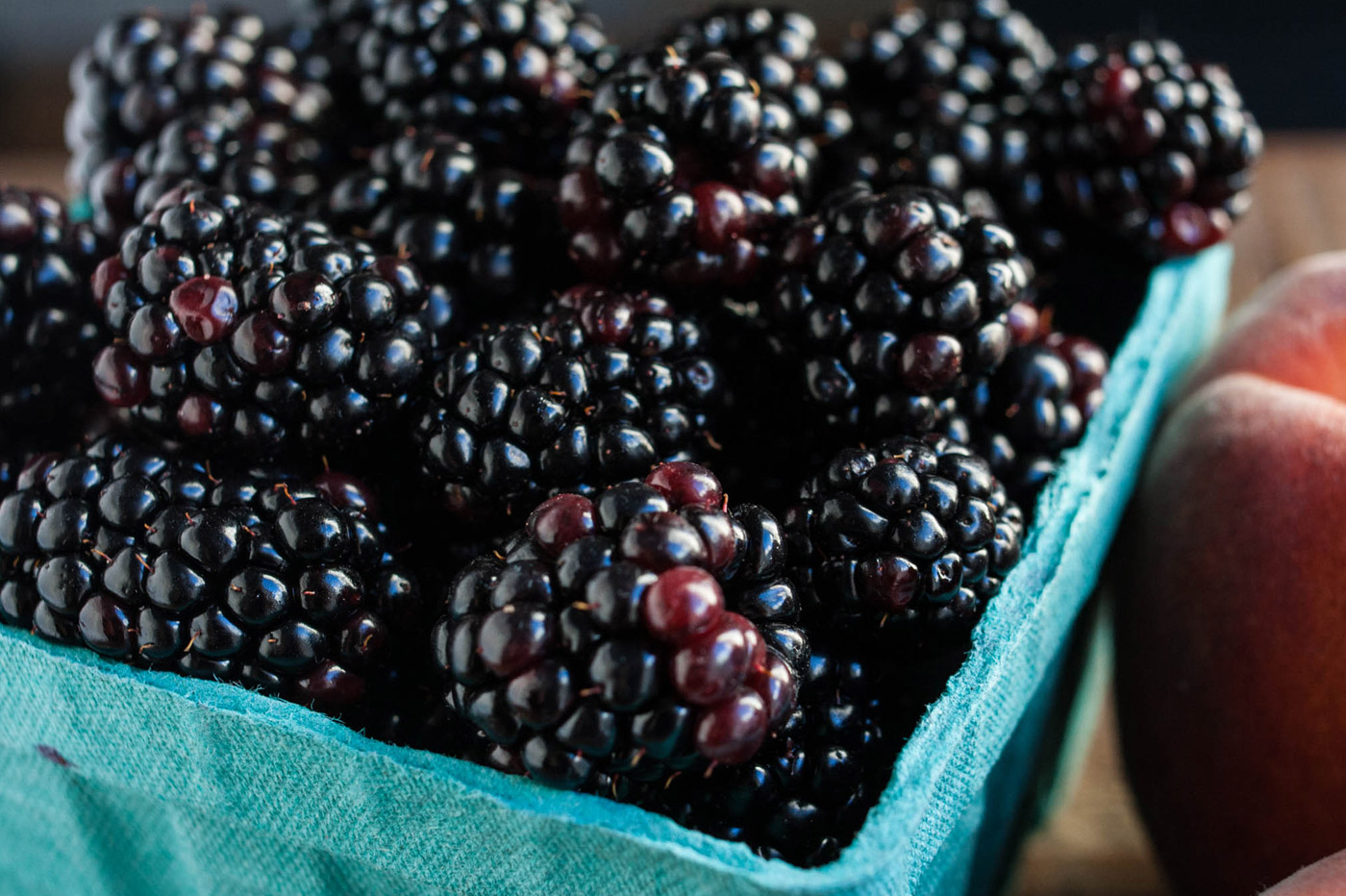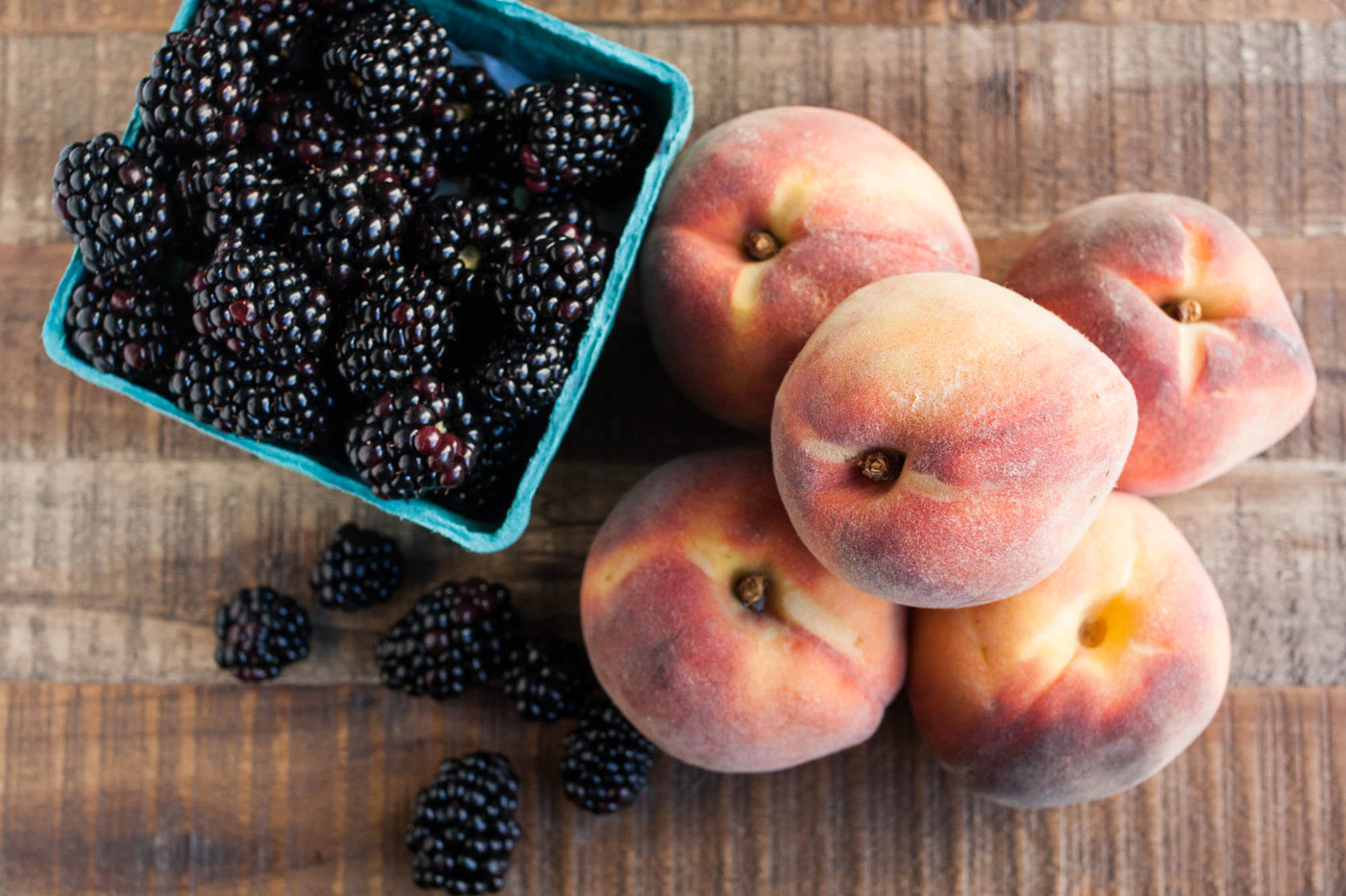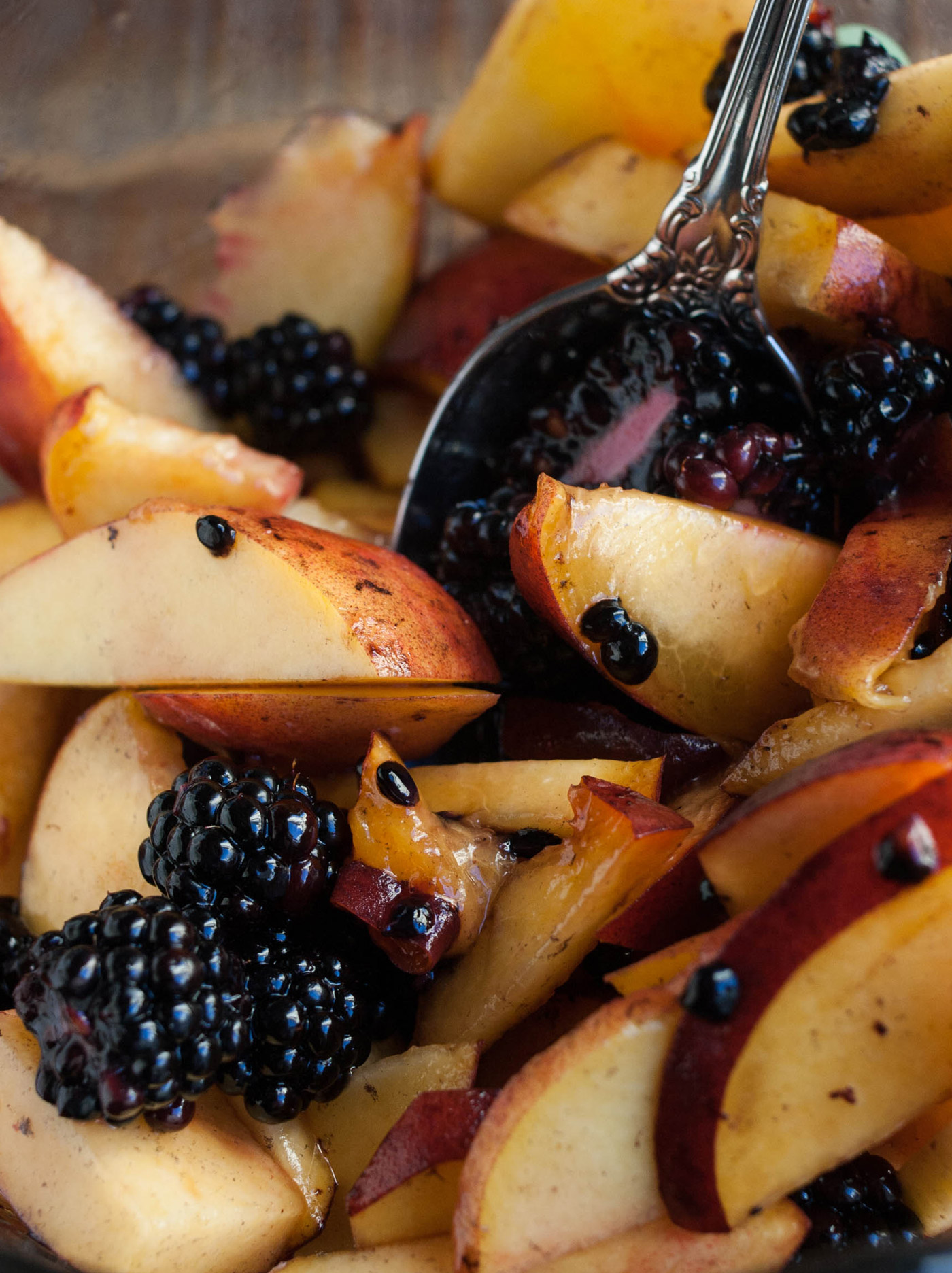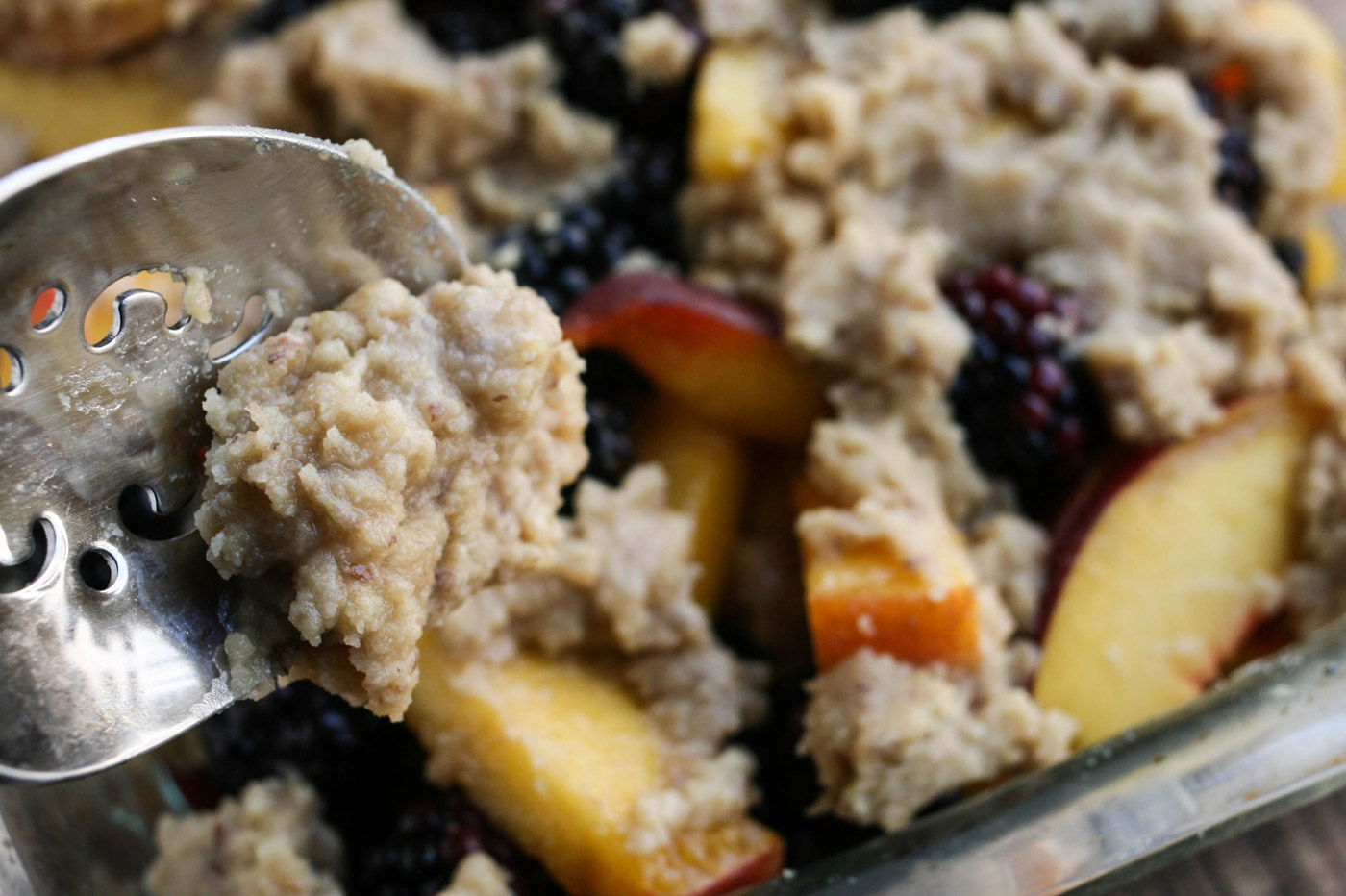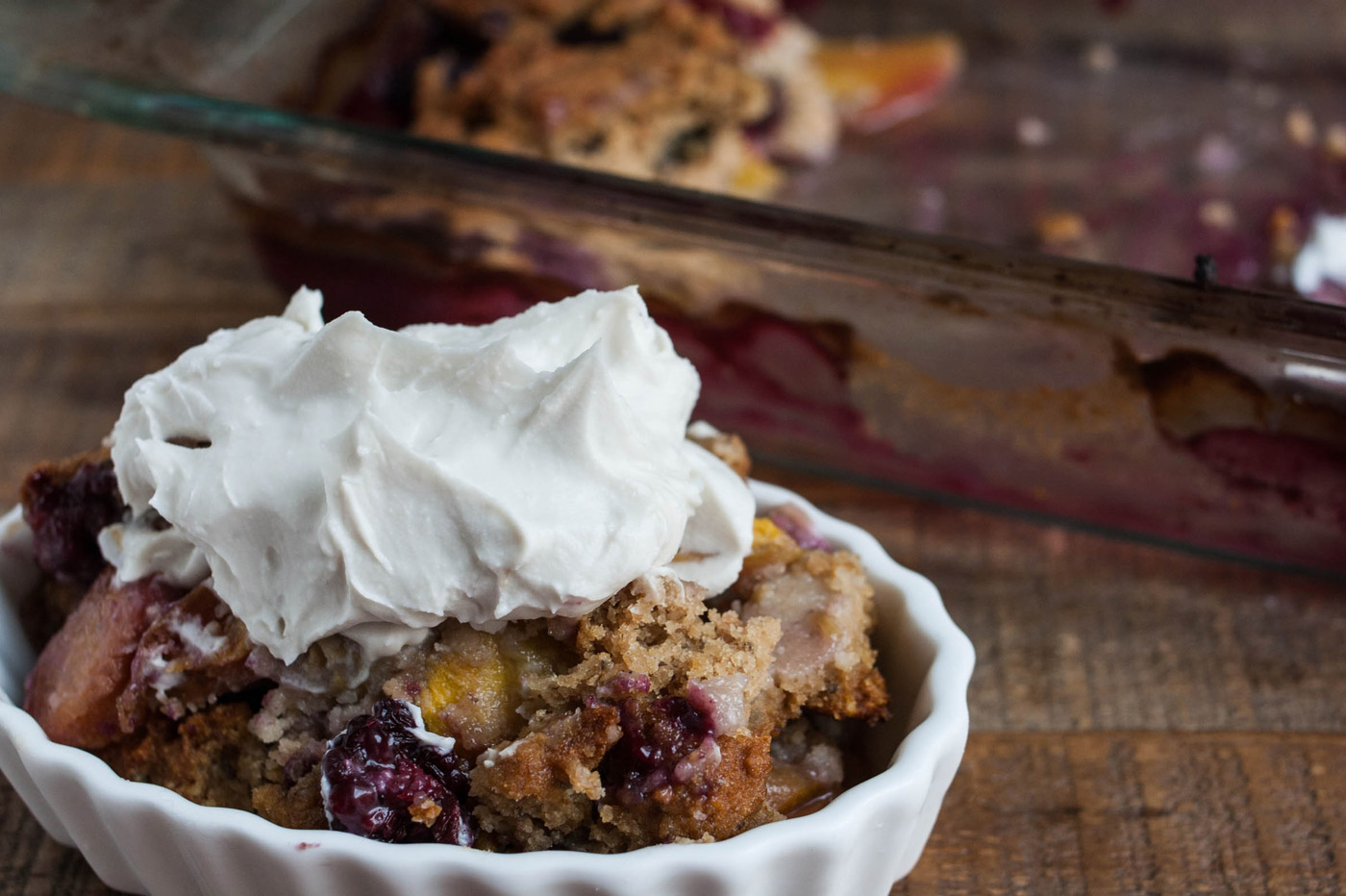 Fruit Cobbler was created by Food&_ community member: