Article
Foraging in Norge
Words & Photography by

Seb Mysko
The Lofoten islands can be found 150km above the Arctic circle, a twenty minute flight north of mainland Norway. The capital is Svolvær, a town that has grown in size over the years by continued land reclamation and is historically known for fishing some of the largest Atlantic cod (Skrei) you'll ever see. It's also worth noting this is a part of the world where whales are sustainably fished and the meat is available in most supermarkets. In the winter weeks leading to Christmas, Lofoten barely sees any light at all, and in the summer months, it doesn't really go dark. Watching the midnight sun dip below the horizon for a few moments before starting its upward journey again is something pretty special, and don't get me started on the Northern lights…
For ten days in July this year we stayed at Myreng, our family's cabin (or 'hytte' to speak local tongue) built in the early sixties and recently remodeled on a sea-house style. I like to think of it as something of an eco-home. It's had solar panels for nearly twenty years, takes it's running water from a nearby tarn and is kept warm by an endless supply of wood from the land. It sits on the edge of Austnes Fjord where the mountains fall down to the sea and from the balcony we look across to Rulten, our very own 1062m sleeping giant. On a wildlife tip, without leaving the property we've seen sea-eagles circling their prey, a pod of porpoise playfully dance down the fjord, a sea-otter paddling in the bay, and we've had daily interaction with a small family of rather noisy and protective oyster catchers.
So, scene hopefully set, let's talk about the food…
Six months ago, I read an article, in one of the Sunday papers about "Cook it Raw"; a project started by Noma's head honcho, Reni Redzepi and friend Alessandro Porcelli that runs deep into the principals of environment, collaboration, creativity and tradition.
"That moment of realisation is magical: the world is edible."
– Redzepi.
He invited some of the world's greatest chefs to get together, hit the countryside around Denmark and see what they could cook up by living for the most part, only off the land. I found the whole story so refreshing, and whilst no reindeer blood was involved in my efforts, I wondered if I could follow some of the ethos set by these quite remarkable pioneers.
What follows are three kind of notes, or ideas perhaps, each one based on using a core ingredients sourced within a half mile radius of the cabin kitchen.
Fungi di Mare
Not a literal translation no, but for me this makes total sense; these silver birch bolete were found on heathery rocks only a few metres away from the fjord shore line. Within half an hour I had them cleaned, diced and in a pan of melting butter. I added a little rock salt, a tsp of sweet dijon mustard, a dollop of crème fraîche and served on a few slices of sourdough. They literally melt in your mouth.
Be aware of the wild mushroom though. With articles like this on the net, it's not hard to get spooked. Even with the bolete, which I know to be safe, I didn't rest completely easy until my blissfully unaware victims were still breathing three days later. My advice for anyone interested in fungi foraging; go with someone who has experience and get yourself an identification book. Googling this topic is a tad too risky.
Austnes Fish & Chips
On day two of the trip we woke up to 22c and blue skies; fishing simply had to be on the agenda. That afternoon, in our little 3m boat, we caught the greatest collection of fish I've seen in one go: Two sizeable cod, a haddock, a seaweed 'torsk' (coastal cod), loads of 'sei' (coaley), one stunning mackerel and a little deep sea redfish or 'Sebastes mentella', which none of us knew what to do with, so quickly set free.
Our rule has always been only fish what you can eat – our bucket was full, so it was time to get back and light the bar-b. Or so I thought. Somewhere between our lucky hunting spot and pulling the boat into land, "fish and chips" were mentioned. That was it, despite the lack of ease in comparison to throwing on the coals, I had to make it happen. We opted for a lighter tempura style batter using one egg, a 330ml can of beer, flour, baking powder and lemon zest. I also like to add a pinch of something with a kick… cayenne or szechuan both work well. I served with chunky chips, lemon mayo and a handful of ruccola. So fresh, so fit. Straight up, yum!
Vild Blåbær & Skogs Bacon Panekaker
The annual bilberry and cloudberry (mølte) seasons are always a big local talking point. Even close relatives will guard their knowledge from one hytte plot to the next.  Cloudberries usually grow in much smaller patches, and as such, are treated with far greater respect – typically served as a dessert by mixing with whipped cream and sugar. The berry also has its own liqueur, 'Lakka' or 'Lakkalikööri' produced over in Finland, which can give the pudding a more adult theme.
The bilberry or 'wild blueberry' is a far more versatile creature. A big family favourite will be, to some, a slightly bizarre combo. Whilst slowly frying up a packet of thick cut bacon, we crush around a litre of freshly picked bilberries with daft amounts of sugar to form a compote. Once that's sorted and with the bacon still sizzling away, we make up two/three pancakes per person. They need to be thinnish and dinner plate width. When ready to serve you want a good tablespoon of crushed bilberries to every teaspoon of bacon (the more juice you can get from the pan the better). I'm told the consumption record in our house is five, but three is definitely more than enough.
So, mushrooms, fish and wild blueberries – my 'cook it raw' journey has begun. I could go on to talk about how Nordmen munch on dried cod like Yorkshiremen crunch on pork scratchings, but I think I'll end my insight here. The question is, what can you find in your back garden?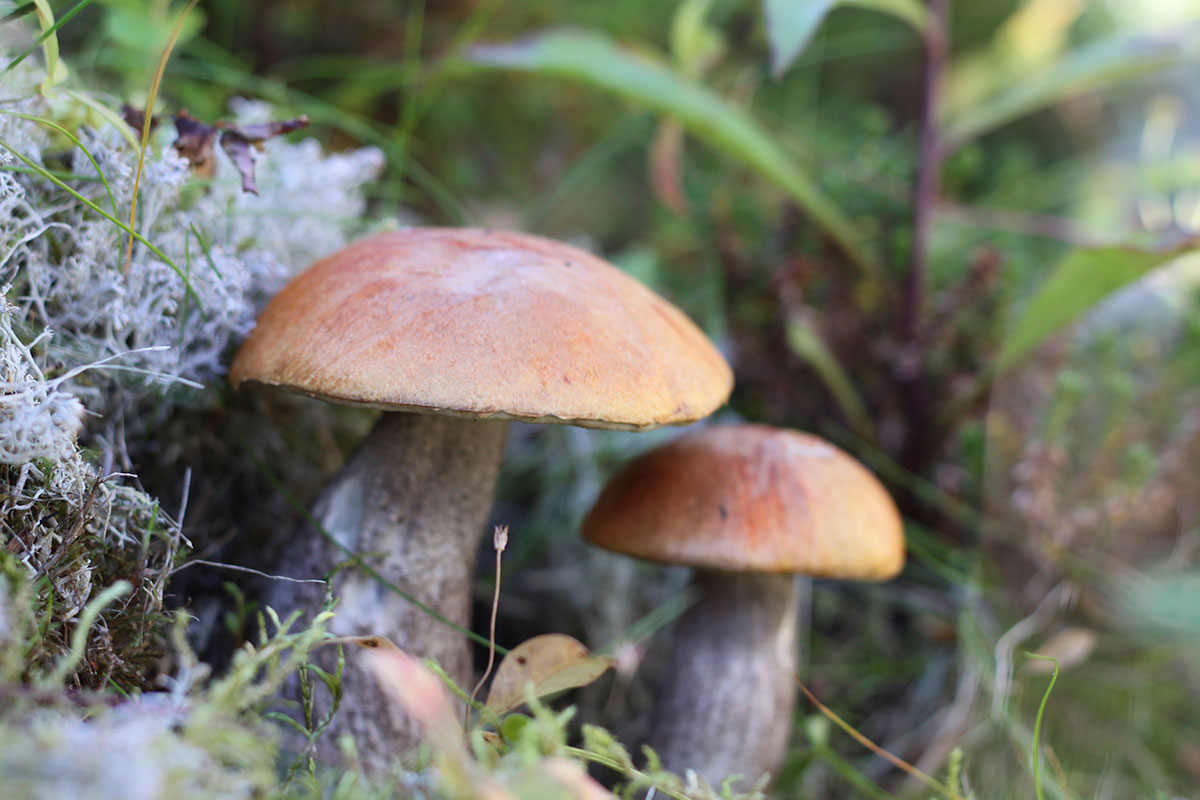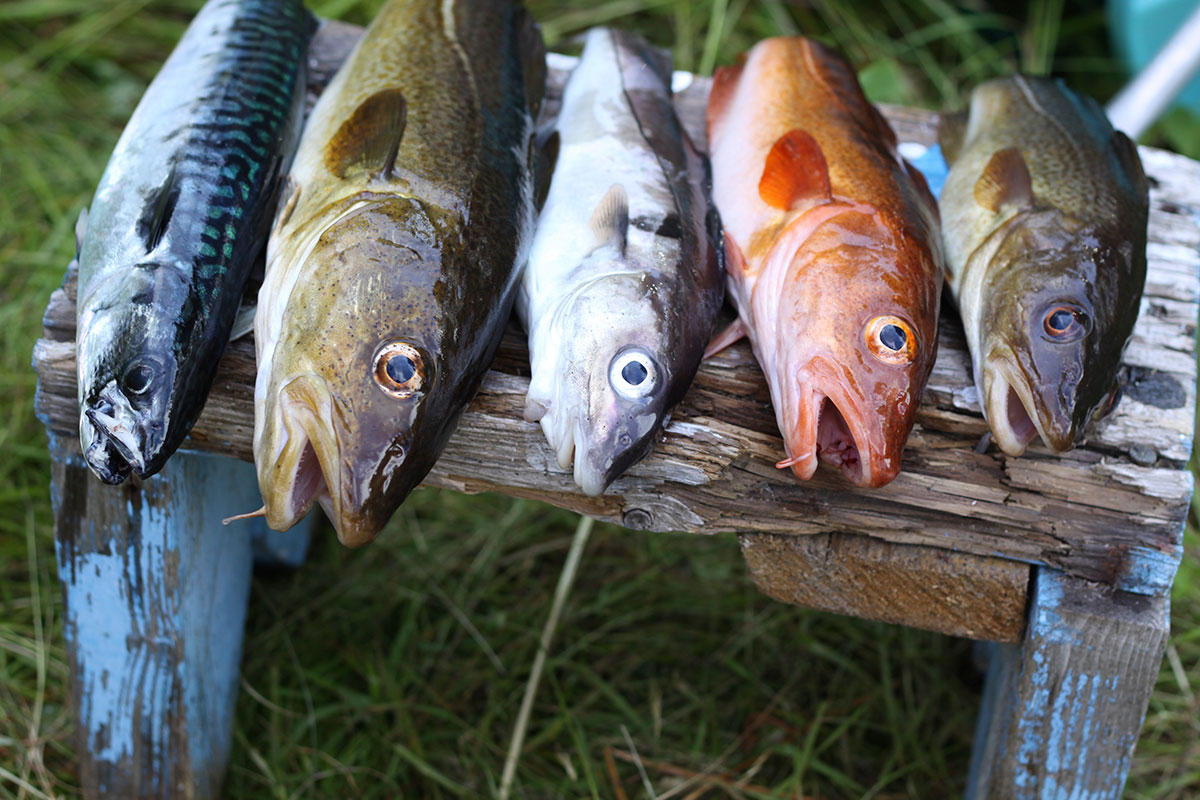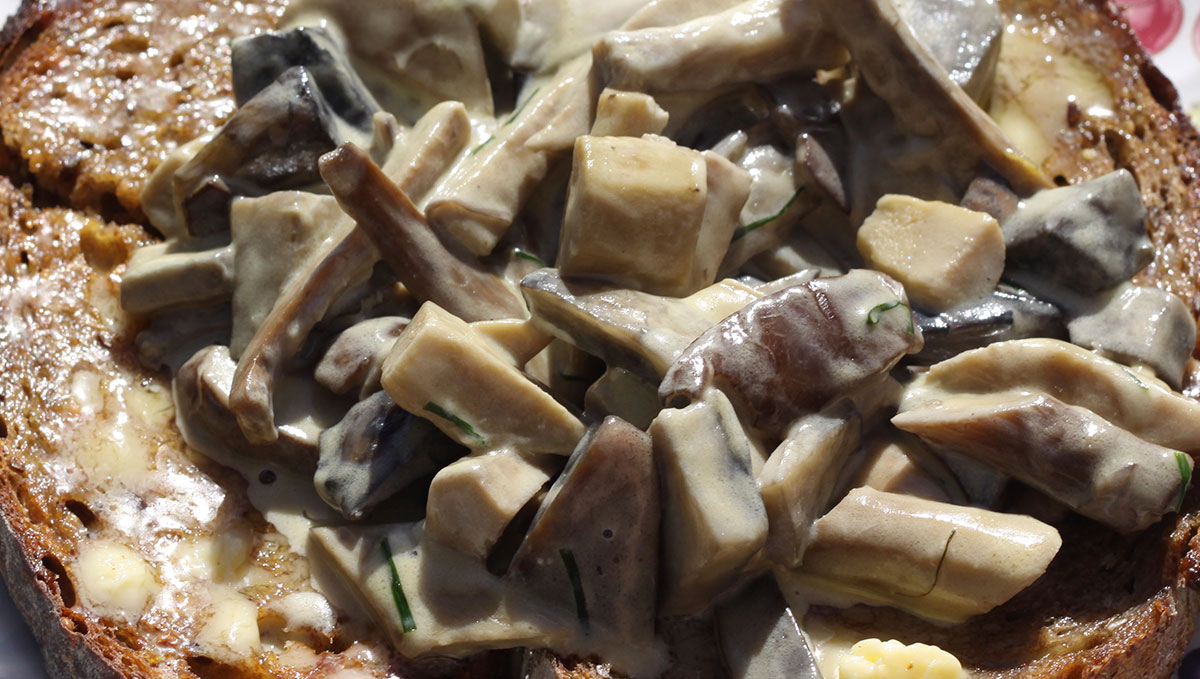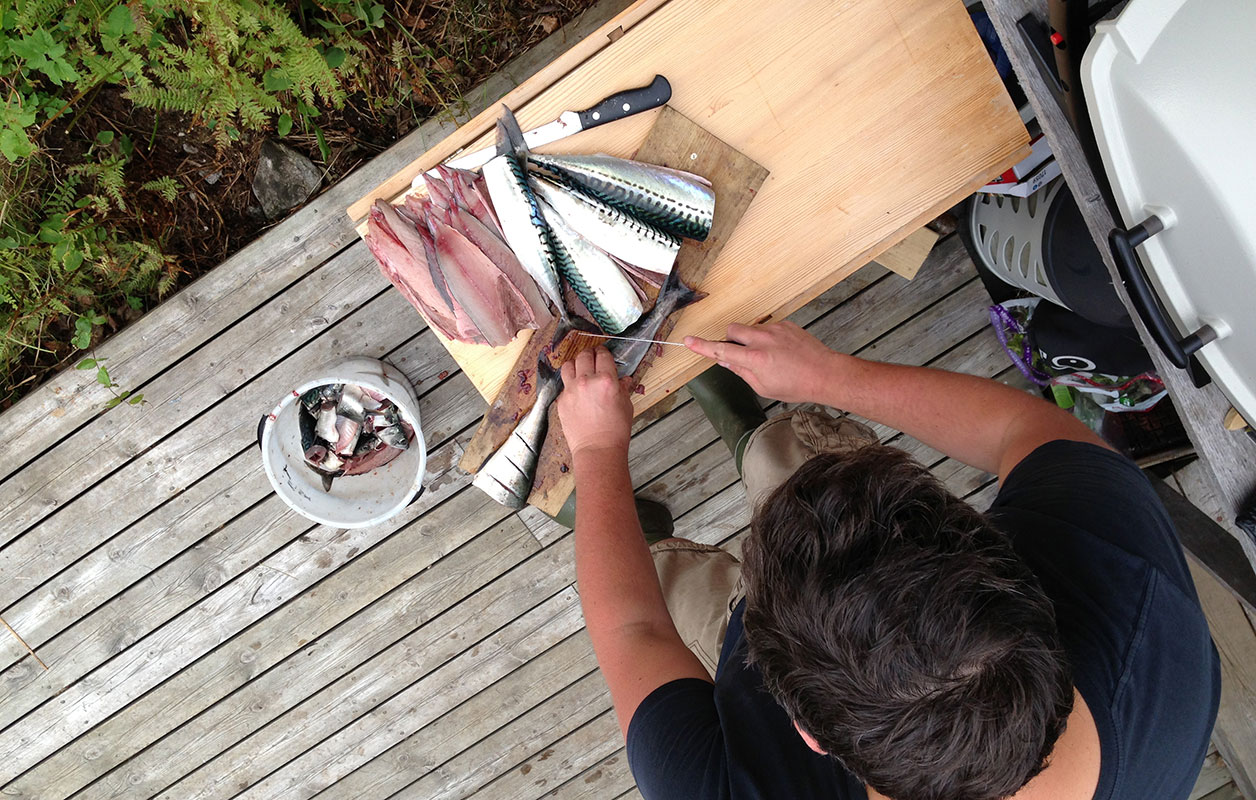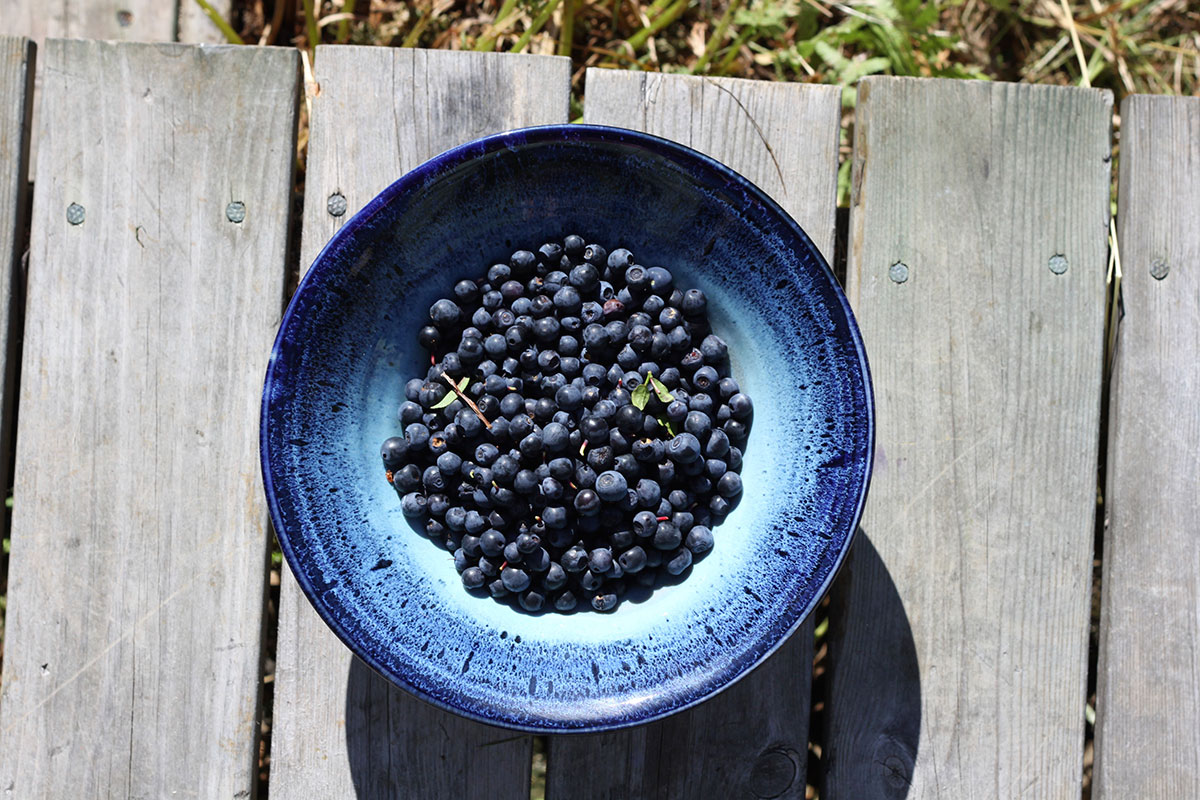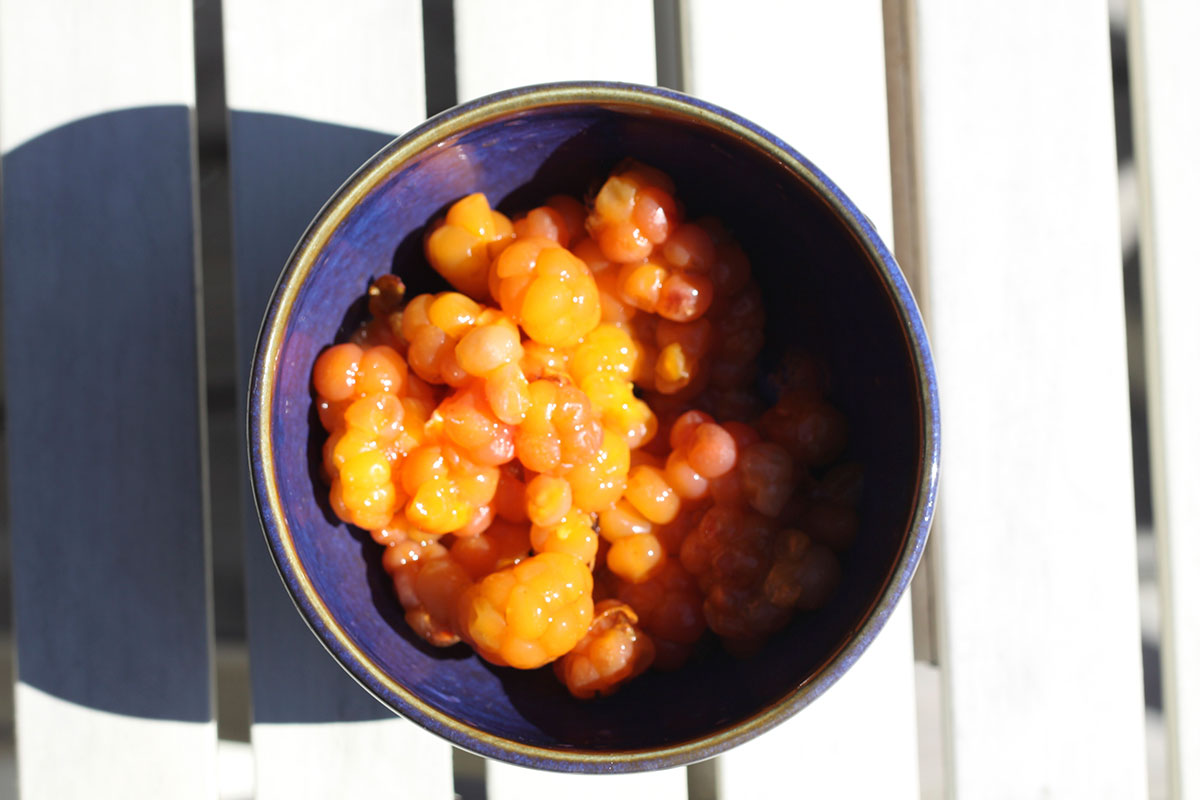 Foraging in Norge was created by Food&_ community member: